As part of its CSR initiative Asianet Satellite communications Limited and its subsidiaries intend to participate actively for the improvement of quality-of-life of people through health care activities, education and community development initiatives, giving preference to local areas of operation. The CSR activities focus on uplifting the weaker section of the society to the mainstream by continued and tireless efforts. The projects /programmes and activities of the company includes sustainable long-term programmes aims to improve socio- economic condition of the community at large, welfare measures to the dependents of armed force veterans who have scarified their life to the Nation.
CSR POLICY
CSR COMMITTEE
Ravina Vinay Rajpal
(Chairman)
Sreerama Murthy Chaganti
(Member)
Suresh Pazhempallil Sivaraman Nair
(Member)
CSR PROJECTS/ PROGRAMMES UNDERTAKEN BY THE COMPANY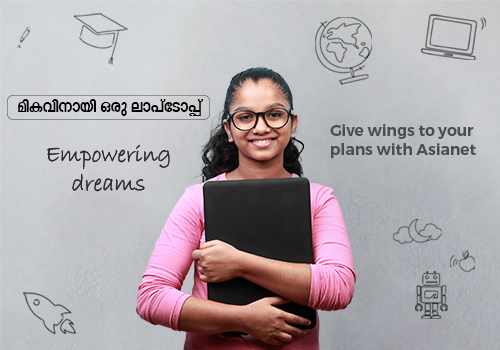 മികവിനായി ഒരു ലാപ്ടോപ്പ്
As part of our CSR initiative, we are proud to support 120 meritorious students studying in +2 (Plus Two) with a Free laptop worth Rs 25,000/-
ELIGIBILITY
1) Must have scored no less than 70% marks or equivalent grade in the 10th level examinations during the academic year 2021-22.
2) The annual income of parents/guardians from all sources should not exceed Rs 1.5 lakhs.
(Application Closed)